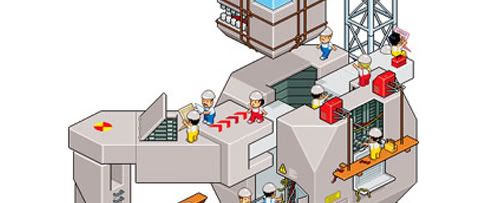 Saturday comes cloudy, Wii comes colorful. Started playing Okami for Nintendo's elder money printer, having failed to properly finish the game on its original PS2 incarnation. Still awesome. And with that said, here is an experiment – links to interesting things I've been finding along the week. Maybe I can pull this off on a weekly basis; we'll see. And here we go:
*Windows 7 is out. Richard Cobbet gives you the good news about it.
*Quintin Smith writes a love letter to Bushido Blade, the game that should have influenced every other fighting game to follow. Here's him on the pitfalls of Entropia Universe. Shudder, indeed.
*Japanese, TV game shows, cruelty. The (in)humanity of it all has a face. Nasubi, we salute you.
*BIFF! Champions Online is free to play this weekend in order to showcase their first expansion pack, Blood Moon. Which sounds like a menstruated version of New Moon. But that's redundant, ain't it? KAPOW!
*Susannah Breslin tackles the recession's effects in the porn industry with her essay, They Shoot Pornstars, Don't They?. NSFW but engaging, brilliant, sometimes amusing, often depressing. Like good journalism, then.
*Epic Warren Spector unleashes epic words on Epic Mickey.
*Stormtroppers taking a day off. Actually, a whole year off. Cute.
*Musical toilet seats. Bathroom Hero? ACTIVISION STAT!
*An optical illusion the size of a town. To architecture what Madoff was to money, I guess.
*Kittens and masturbation are no longer meme-worthy
*Stuart Campbell, enfant terrible of videogame journalism and former dev at Sensible Software (yes, they of Sensible Soccer and Cannon Fodder excellence), goes back to game development and lends a hand in the creation of Manic Miner in the Lost Levels, a homebrew DS game. Go have a play, yes?
*Author Mary Margaret Park to write a novel inspired on Road Avenger. Full Motion Text?
*One for the memory: Parabola by Tool \m/
And that's a wrap.