Blog Archives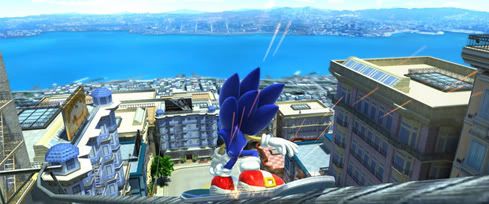 Sonic Generations (PC), Sonic Team/Devil's Details

Generations, like other subtitles such as Gaiden or Densetsu, tends to create a needless sense of distance and is often used to placate children who refuse any sort of changes to their favorite games – even if those turn out to be more diverse or adventurous titles than their tepid continuity flag-bearers. It's the kind of word that gets spreadsheet-loving executives free lunches since it's marketable, safe and can describe just about anything – from Lego sets to Nintendo's newfound love for grandmas, from the Rolling Stones to Pepsi.
But here, the context is that of a "members only" club. Here's Sonic, the quintessential mascot of mascot games that, perhaps unlike any other, has illustrated its parent company's history near flawlessly, from stardom to some murky depths, doing its best inviting yet conservative stance. Whatever feelings you nurture for the spiky bundle of action's past games, Sega has you covered by condensing 20 years of Sonic into one single title. Everyone's invited. For better or for worse.
So what's on my mind lately? Too many things to post here, but here's a rundown of another three games I've been playing recently and which have occupied me a bit. These are suggestions for people looking for retro with gusto, and also some fine arcade games.
Now playing…
Time has been rather short lately, meaning I can't always write at length about my current gaming obsessions. With that in mind I decided to write some quick impressions on a couple of titles I'm playing recently. So, here goes: