Sabiam que… a Atari queria ter lançado o primeiro videojogo de futebol em 1973? No entanto, não davam com nenhuma maneira de fazer com que os jogadores se mexessem para uma área que não estivesse a ser mostrada pelo monitor.  Assim, desenvolveram o sistema de scrolling - foi o primeiro jogo a fazê-lo – e assim nasceu Atari Football, em 1978 – 5 anos depois.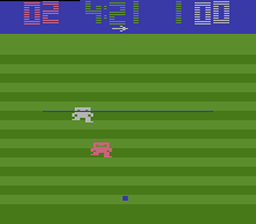 Só faltaram os modelos verdadeiros dos jogadores da Selecção Portuguesa e o Chalana e o Bento com os respectivos bigodes.
Explore posts in the same categories:
Sabiam Que...?
Tags: 70s, atari, curiosidade, desporto, futebol, Sabiam Que...?, scrolling
You can
comment below
, or
link to this permanent URL
from your own site.